LED Tubes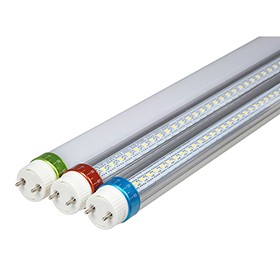 One of the first LED retrofit in the global lighting market, the T8 and T5 LED tube. VOLTACON has the most comprehensive range of product available for commercial and residential use. It is impressive what the end users of modern lighting can achieve using our tubes:
Standard direct replacement
Emergency LED Tube with battery pack
Microwave sensor
Dimmable T8 tube (DALI, AC Triac, 1-10V dimmable)
System efficacy 130lm/watt
To make the transition from fluorescent lights to LED as straightfoward as possible, we developed direct replacements with identical dimensions (compared to the CFL counterparts).
Voltacon offer to commercial, industrial and residential consumers the most comprehensive range of LED tubes in the market. You will find below all the sizes of T8 and T5 with dimmable and sensor function.
Visit the dedicated page for each type of Led tube.