Ledison T8 LED Tube 120cm 20W
Ref: LED-T8-12020
£16.50
Price inc VAT
Bulk Savings £££
# Items
Our Price
Savings
6 Items
£16.01
Save 3%
12 Items
£15.51
Save 6%
24 Items
£15.18
Save 8%
Description
Specification
Downloads
Description
LEDISON LED Tube T8 120CM. Ultra Bright Retrofit with 2400 Lumens
Product Description
The LEDISON LED Tube is a breakthrough in the lighting industry. We use the most renowned brands of LED chips (Everlight/CREE), with high lumens per watt and colour rendering index above 80. The internal power supply is assembled with devices of high reliability and meets all the quality, safety and electrical standards.
The anodised aluminium housing in conjunction with low resistance thermal material decreases the temperature of LEDs which guarantees long life span of the LED Tube, over 50,000 hours. LEDs are mounted on Printed Circuit Board with Thermal vias (multiple conductive holes on board) which carry away the heat from LED chips

Performing thousands of hours of stringent tests, it was measured that LEDISON Led tubes maintained 80% of the original luminosity after 50,000 hours of operation. This achievement can meet the standard of Energy Star for LED indoor lights.
The T8 LED tube lights are direct replacements and can be installed into conventional fittings without additional wiring.
Installation Instructions
Remove the old starter and replace it with the LED starter provided with the tube light
Install the LED tube and turn on the power. If the fluorescent fixture contains an electronic ballast, the LED tube must be connected directly to the mains voltacon. The electronic ballast should be removed or bypassed
LEDISON Led tubes are brighter that conventional fluorescent tubes, emit quality light with excellent colour rendering without flickering.

All our LED Tubes are supplied with user's and installation instructions. An LED starter is supplied with every LED T8 tube
Specification
| | | | |
| --- | --- | --- | --- |
| Fitting: | T8 | Luminous flux: | 2400lm |
| Wattage (rated): | 20 Watt | Color Rendering index: | >80 |
| Voltage: | 100-265Volt | Typical efficiency: | 120lm/W |
| Line frequency: | 50/60Hz | Beam Angle: | 120deg. |
| Average lifetime: | 50,000 hours | Net Weight per piece | 200gr |
| Color Temperature: | | Diameter | 26mm |
| Warm white: | 3000K | Length pin to pin | 1213mm |
| Natural white: | 4000K | Dimmable | NO |
| Cool white: | 6000K | Warranty: | 5 years |
| Operating Temp: | -40 OC to 50 OC | Certification: | TUV, ROHS Compliant, CE, UL |
Number of LED Chips : 168

Product Features
60-70% energy saved over conventional fluorescent tube
Typical Brightness loss: 80% maintains after 50,000 hours
Quick and easy installation to minimize retrofit costs
Up to 50,000 hours lifetime
Fire proof lens and aluminium housing
Rotating end caps (180deg) for regulating the direction of light beam
All our tubes come with Frosted covers. Unlike Clear covers, Frosted covers disperse uniform light, making them qualitatively superior to the Clear covers. If for any reason you require Clear covers, please contact us. Subject to stock availablity.
Specification
Structure of T8 led tube 120cm 20watt
Dimensions of T8 LED tube 120cm 20watt

Diameter (identical to fluorescent T8 tubes)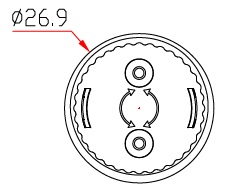 Identical dimensions with compact fluorescent T8 tubes
Tube Length
A
B
C
max
min
max
max
60cm
589.8
594.5
596.9
604
90cm
894.6
899.3
901.7
908.8
120cm
1199.4
1204.1
1206.5
1213.6
150cm
1500
1504.7
1507.1
1514.2
180cm
1764
1768.7
1771.1
1778.2
240cm
2388
2392.7
2395.1
2402.2
Downloads
Technical Manual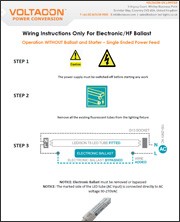 T8 LED Tube Single-End: Instructions Manual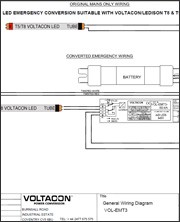 T8/T5 Emergency Pack Wiring Diagram

You May Also Like

Price inc VAT
From as low as 58.88
Liteplan Emergency Conversion Pack with Ni-Cd Battery. 4Ah
Buy Now

Price inc VAT
From as low as 43.06
Emergency Battery Pack (Ni-MH) compatible with all T8 / T5 LED tubes
Buy Now

Customised LED Solutions for Customer Success

Nationwide Expert Site Surveys Available