Omega LED Ceiling Fitting 12Watt
Ref: UP-AL08-10-12W
£21.00
Price inc VAT
Bulk Savings £££
# Items
Our Price
Savings
6 Items
£20.37
Save 3%
12 Items
£19.74
Save 6%
24 Items
£19.32
Save 8%
Description
Specification
Downloads
Description
LED Ceiling Surface Mounted Fitting 12Watt -

OMEGA Series

Voltacon is pleased to welcome a new slim and stylish unit to its range of commercial LED ceiling lights.

Voltaled is a modern ceiling light, featuring an elegant brushed aluminium bezel that is just 40mm thick, making it a versatile and discreet solution for lighting your business. Voltaled comes in a range of sizes; the smallest weighing 920g and the largest weighing 1.2kg.

The stylish LED ceiling light is perfect for illuminating any area of your business including corridors, reception areas, utility rooms and bathrooms. It is even suitable for installing in outside areas such as balconies due to an IP (ingression protection) rating of IP54, indicating the waterproof and humidity-resistant properties of the lights.
Our recommedation
If you want to replace your old ceiling/wall lights this is the right LED light that is equivalent to 28w and 36w 2D CFL.
Features
It comes with LED aluminium printed circuit board
Uses the latest technology of high efficiency LED driver
Available with white and brushed aluminium bezel
It replaced 28w and 36w CFL 2D Lamps
Watch our Video on Youtube
Main features
Applications
The LED fixture can be installed on the wall and ceiling, on the back side there is a metalic mounting bracket with screws and plugs. It is suitable for all surfaces (wood, plasterboard, concrete and brick walls).
Slim and Elegant
Functions and Options
Emergency pack with Ni-Cd batter for 3 hour emergy powe mode
Microwave sensor with on/off function
Microwave sensor with corridor functions and 3 step dimming.
IP54 Rated. Waterproof
Voltaled can be used as MAINTAINED FITTINGS
It will operate as standard light fitting, can be controlled with a wall switch or motion sensor like all the other lights. When the mains power fails, the maintained emergency pack will operate at 30% light about that is approximately 300 lumen.
EAN Codes
| | | |
| --- | --- | --- |
| EAN | 0610877896363 | Standard 12W |
| EAN | 0610877896370 | Sensor 12W |
| EAN | 0610877896387 | Emergency 12W |
| EAN | 0610877896394 | Emergency Sensor 12W |
Specification
SPECIFICATIONS - 12W Voltaled LED Ceiling Fitting
Beam angle:

120°

Luminous flux:

996-1068 lm

Wattage (rated):

12 Watt

Color Rendering index:

>80

Voltage:

AC100-240V

AC200-240V

Typical efficiency:

90lm/W

Line frequency:

50/60Hz

Weight:

850g

Average lifetime:

50,000 hours

Power Factor

>0.9

Color Temperature:

Size

250*48mm (10inc)

Warm white:

3000K

Waterproof:

IP54

Natural white:

4000K

Dimmable:

NO

Cool white:

5700K

Warranty:

5 years

Operating Temp:

-10 OC to 50 OC

Certification:

ROHS Compliant, CE, UL
Downloads
Technical Manual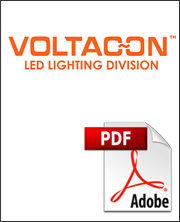 Technical Specifications and Wiring Instructions 12W Microwave sensor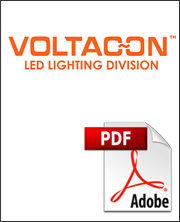 Technical Specifications and Wiring Instructions 12W Sensor

Customised LED Solutions for Customer Success

Nationwide Expert Site Surveys Available