LED Pendant Downlight 18Watt. White or Black Housing. Ceiling Lighting.
Ref: LDN-PD02A-18W
£25.90
Price inc VAT
Bulk Savings £££
# Items
Our Price
Savings
6 Items
£25.12
Save 3%
12 Items
£24.35
Save 6%
24 Items
£23.83
Save 8%
Description
LED Pendant Downlight 18Watt. White Housing. Ceiling Lighting.
Designed by our Lighting Engineers, the minimalistic LED Pendant light is ideal for a wide range of applications. The stylish appearance makes the favorite lighting solution for bars, restaurants, reception areas and hotels. You can create a warm and ambient atmospere by installing these lights above your dinning table or in the living room.
Having full control on the luminosity will help you to establish the right level of light to match the occasion. We added the dimmable-function at no extra cost so that you can adjust the brightness using standard wall dimmer switches.
High Tech Materials | Quick Installation
The case of the fitting is made of AL6063 aluminium that is sand-blasted with oxidation treatment. It provide excellent reistant to corrosion and cools down the LED chips and power supply.
It take only a couple of minutes to install this LED Pendant Downlight, the screws and wall plugs are included in the box along with the metalic suspension accessories.
More than just a light fitting
The surface ring of the pendant is replaceable, there are three coloured rings, bronze, white and black.
Product Features & Performance
18Watt, 1800 Lumens
50,000 operating hours
Reflector with conical shape
CoB (chip on board) LED
Easy, Simple and Safe Installation
Compatible with AC voltage from 100V to 240VAC.
Suitable for use as Pendant with Suspension Wire
Dimensions
The 3-core cable is wrapped with woven material.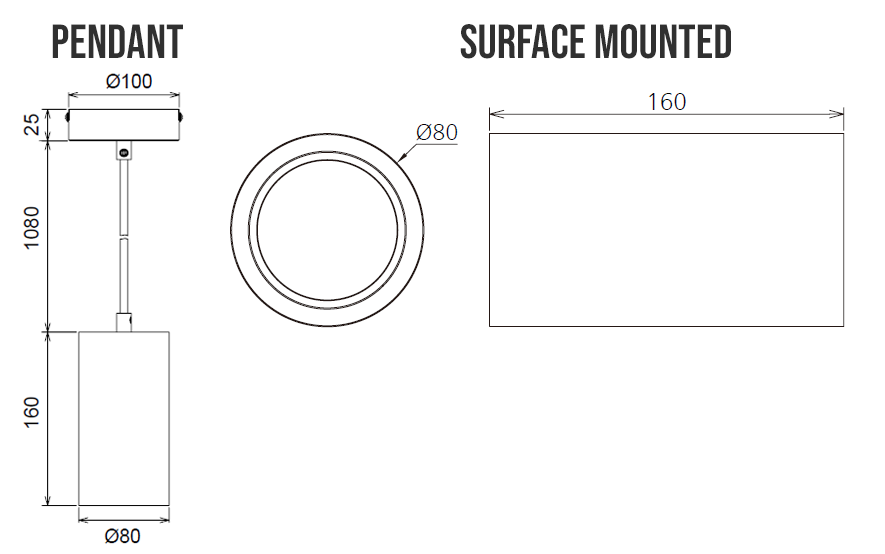 Specification

Customised LED Solutions for Customer Success

Nationwide Expert Site Surveys Available