Emergency Pack for LED tubes with Ni-CD Battery
Ref: NED/3
£46.80
Price inc VAT
Bulk Savings £££
# Items
Our Price
Savings
6 Items
£45.40
Save 3%
12 Items
£43.99
Save 6%
24 Items
£43.06
Save 8%
Description
Specification
Downloads
Description
Emergency Conversion Pack for LED T8 tubes & Standard led lUMINAIRES
No one plans to find themselves without lighting, but if you do, our emergency pack for LED tubes with a Ni-CD battery means that you're ready for whatever comes next. This battery pack powers T8 or T5 LED tubes between 6w and 35w, and a standard LED array with up to 20 LED chips.
The pack automatically adjusts the available power to offer the optimum conditions for the installed lights. The Yuasa Ni-CD pack has some of the highest capabilities on the market, and you can expect your emergency pack to operate for at least 1000 cycles.
There are even options that work in very high temperatures. No one expects to be left without lighting, but this emergency pack ensures that even if the lights go out, you won't be left in the dark.
Features of the battery pack -Cylindrical Nickel Cadmium (NiCd or NiMh)
Emergency lighting stick Yuasa battery pack with 3 3.6v 4000mA NiCd NiMh
High-Temperature D Cells Pack (leads 3DH4-0L4)
Yuasa NiCd product has some of the highest capacities
Up to 1000 charge/discharge cycles can be expected.
High-Temperature Options
COMPATIBILITY
LED Arrays with up to 20 LEDs
Voltage of the arrays between 6V and 80V


DIMENSIONS
Emergency Driver: 165mm x 45mm x 29mm FC=155mm
Battery cell: 220mm x 37mm x 37mm FC=205mm
Specification
TECHNICAL SPECIFICATION
2-pole changeover relay
Additional 3rd pole relay
Deep discharge protection
Compact (HRN) enclosure
Constant current charger
Input Voltage (Dual) AC 220-240V 60Hz
Normal function Indicator LED Equipped
Emergency Function Testing Device Equipped (testing switch)
Emergency Time 3.0 hours
Battery Protection Device Equipped
Operating Temp 0 ~ 80C
Battery High Temp Battery Pack
3.6V 4.0Ah NI-CD Battery Pack
Start-up Charging Time 24 hours
Lumen factor 30%
Compatibility with LED T8/T5 tubes from 6W to 32W
Downloads
Technical Manual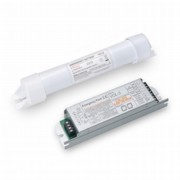 Emergency Conversion Pack VOL/3/80-Data Sheet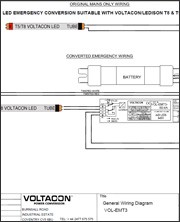 T8/T5 Emergency Pack Wiring Diagram

Customised LED Solutions for Customer Success

Nationwide Expert Site Surveys Available