Ledison PLG24, Emergency Kit - 8W
Ref: LDN-EMER-0836-PL
£68.16
Price inc VAT
Bulk Savings £££
# Items
Our Price
Savings
6 Items
£66.12
Save 3%
12 Items
£64.07
Save 6%
24 Items
£62.71
Save 8%
Description
Ledison PLG24 Emergency Kit 8W
This is a complete emergency conversion pack which includes the battery, emergency power supply and an 8W PL G24 Lamp. The emergency time is 3 hours which is compliant with the British standards. The battery is for 4.000 mAh and 3.6V DC. An LED indicator is also connected to the emergency pack to indicate the charging status.
The Emergency Kit "Emer Kit" is developed to be used with any of the Ledison PL lights. The kit is designed to fit into most standard existing fittings. It will provide autonomy to LED PL bulb up to 4 hours at a reduced power (30%), ensuring the minimum legal requirements for emergency lighting are met.
The Emergency Kit can be operated in maintained or non-maintained mode A Green-Red LED indicates the statues of the Emergency Kit.

The built-in Lithium battery reduces the size of the emergency kit and eliminates extra wires. It is safer, easier and takes much less space to use Ledison's Emergency Kit.
What's in the box
Ledison 8watt PL Lamp
Emergency Kit with Ni-Cd Battery 4Ah
Bundle Cables, LED indicators
Dimensions
The dimensions of the case are L300 mm x W 90 mm x H 42 mm.

Back Up Power and Time
| | | | |
| --- | --- | --- | --- |
| POWER Model | PLG24 6W | PLG24 8W | PLG24 10W |
| Output power | 6W | 8W | 10W |
| Illumination Intensity (LM) | 600 | 800 | 1000 |
| Emergency Intensity(LM) | 250 | 300 | 360 |
| Emergency Time(hrs) | 4h | 3.5h | 3h |
Downloads
Technical Manual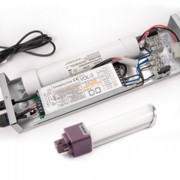 LED PLG24 data sheet and wiring instructions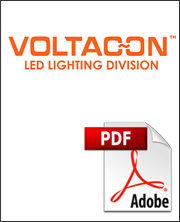 Wiring instruction for emergency PLG24 & 2G11

Customised LED Solutions for Customer Success

Nationwide Expert Site Surveys Available